tackle boxes for pieces is great I hate, freakin hate. digging through boxes for pieces with no organization. Flight stands just sound cool. I use paper money from HBG. Risk "cities" for Major IC and the standard IC for Minor IC. A piece for Capitals would kickass I could see a grey clock tower, kemlin dome, pagoda would be amazing.
Behold the Power of Yavid
---
oops! this picture
---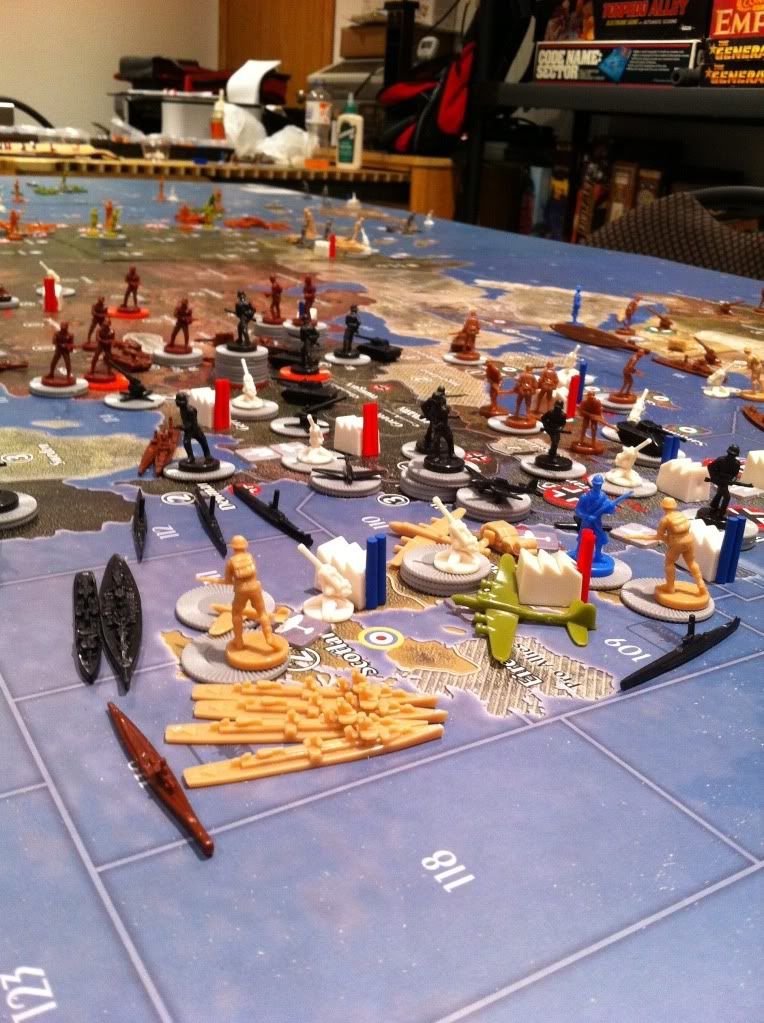 just finished our (my 21yr son and me) 1st G40 game. I surrendered as the axis on usa turn four... The IC's looked better than my game play.
---
These Victory City Flags I recently made help to quickly figure out who holds VCs and how many more are needed to win a VC victory.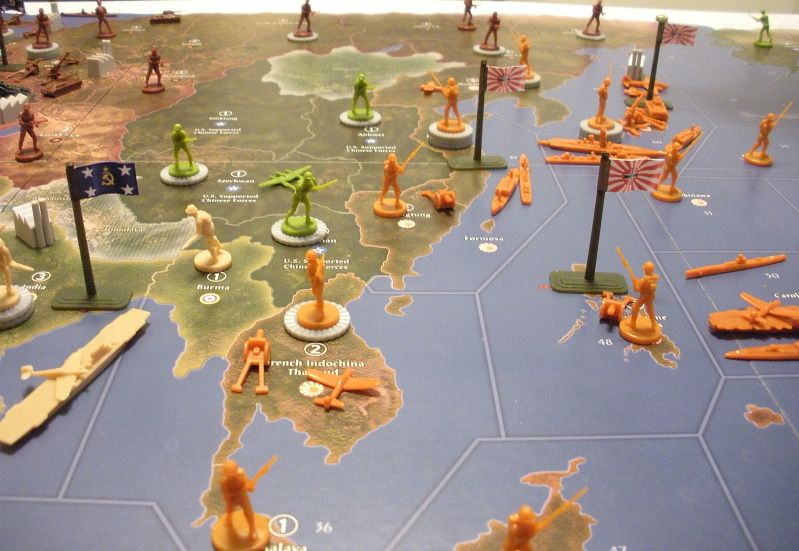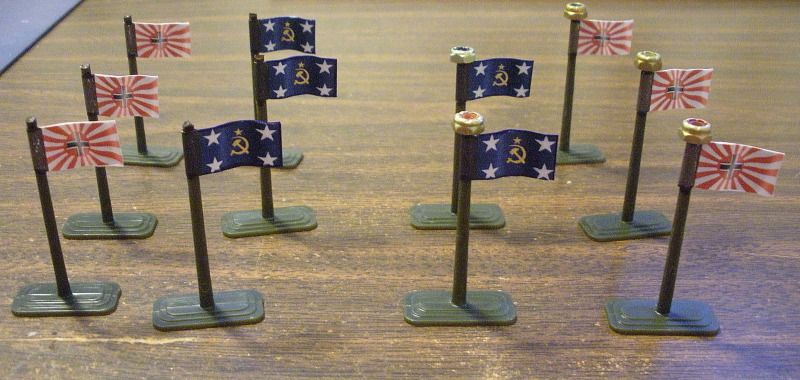 I also like using different colored dice for hit numbers:
1: White
2: Black
3: Green
4: Red
I pick up all the dice I need for an attack and roll them all at once. Speeds up play quite a bit.
---
Posts: 90
Joined: Tue Jan 03, 2012 6:19 pm
Location: New York
Interesting idea about the color dice based on what you need to hit.

I have color coded dice based on the nation. Green for US, Blue = France, Red= Japan, Black = Germany, White = UK
---
Z22
Great idea on the dice... Love those flags! Where did you find those stands. Do you have the files from printing those?
---
- mountain on neutral territories. Ours were from the Runewars game
- painting the pieces is a lofty idea that i've been ruminating over
Flight stands for fighters and bombers.
great idea. How did I go about making these or where to buy?
---
aNjaSqurl wrote:The only thing I can think of is "official" correspondence between the various powers. One of the banes of game such as Axis and Allies and Risk (for me anyway) is confidential communication between different players. Lets face it. there is only so much........
I'll admit, both of these options slow down the game as it can take a while to pass notes around and to get up and leave the table to chat. They also add to the atmosphere of the game because Churchill and Stalin didn't text and Hitler couldn't hop of Facebook and send off a quick chat to his generals.....I'd like to think that if the real war could be won with what would be seen as technology that would almost be considered to be rudimentary at best I can do the same in my living room.
We recently tried the exact opposite and thought it was a better experience. We disallowed any suggestions/tactics/strategy talk among friendlies. We did this for two reasons. The primary is to speed up the game, and wow did it speed up the game. It may have cut the play time in half. The second (similar) reason was to keep analysis paralysis to a minimum and not let one player suggest and dictate all moves for every player for that alliance. All of our players knew how to play A&A so teaching wasn't an issue.
We found players needed to figure out what their partners were trying to plan and we also didn't see each side analyzing each others moves for possible mistakes, making for a more exciting game. Did I mention the game took about HALF the time to play? Wow, we loved playing like this.
---
Who is online
Users browsing this forum: No registered users and 1 guest